The Christmas day swim was postponed due to adverse weather conditions. It will now take place New Years Day at 12.30.
The proceeds from this year's Swim will go to St. Josephs Foundation, Charleville who look after those with Special Needs within our community and Kanturk Community Hospital who care so well for the elderly.
Last year over €8000 was raised for the National Rehabilitation Hospital and the Michael O' Dea
rehabilitation Fund.
Please come along and support this great cause.
***************************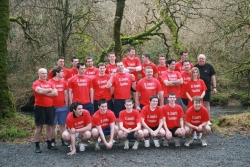 The swim took place on the 1st of January in the Island Wood. Well done to the organizers of this great event and to the brave 23 men and 1 woman who took a very cold dip!!
You can follow the Christmas Day Swim on Facebook: www.facebook.com/NewmarketChristmasDaySwim