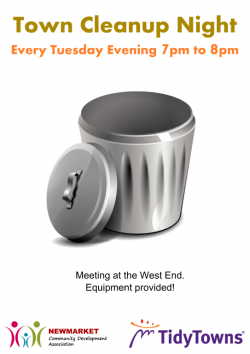 We will be starting our town clean up nights again on Tuesday the 12th of April starting at 7pm and meeting at the town park. All equipment will be provided and we'll work through until 8pm. We had a great team last year and thankfully had some good weather! The main activity is litter clean up and we may have some bits of gardening and other odd jobs. It's a great way to get out in the fresh air, meet some people and make a positive difference to our environment.
Aside from making our town tidy and pleasant to live in we are also hoping to improve our score in the Tidy Towns Competition this year. If you can't make the night we would appeal to you to keep an eye out for litter and if there is anything you can do to make your home or business look more appealing that would make a huge difference to our chances in the competition.
If you've any questions or suggestions for what type of landscaping we could do around the town please get in touch with us at contact@athtrasna.com or grab one of the committee members. We'll be putting together a landscaping plan for this year over the coming weeks. One of the key areas we'll be focusing on is the pump house on Scarteen Street.