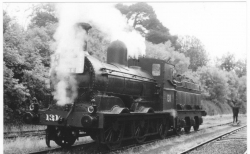 Newmarket Railway opened in 1889 and closed (finally) in 1963. It was built by Robert Worthington for the Kanturk and Newmarket Railway Co. (local land gentry and Cork businessmen) and went on to have an independent existence of three and a half years until purchased by the Great Southern and Western Railway in February 1893. The line, 8 3/4 miles long, from Banteer to Newmarket, had it's only intermediate station at Kanturk. It crossed the River Blackwater just outside Banteer, from which point it was on a rising gradient almost throughout to Newmarket . The ruling gradient was 1 in 60 on leaving Banteer. Curves were relatively easy, the sharpest, two of 20 chains radius. There were twelve bridges of which seven were under and of steel structure. The remainder were masonry. The Blackwater bridge had five steel spans, each of 63 feet. A lattice girder bridge over the River Duala, near Kanturk, had one span of 70 feet. The Duala , from this point, flowed downwards parallel with the line to Banteer, and into the Blackwater.
It was never profitable and had to be supported by baronial guarantee from the beginning. Until 1942 four trains ran daily, with occasional Sunday excursions to the seaside, G.A.A. matches, or pilgrimages (Drogheda and Knock) and the annual exodus to Banteer Sports in June.
On 30 November 1962, notices, signed by Secretary, CIE Kingsbridge, appeared in the National daily newspapers, and the Cork Examiner reading:- "Pursuant to section 19 of the Transport Act 1958, the Board of CIE hereby gives notice that on and from the 2 day of February 1963 all services of trains for the carriage of merchandise operating on the railway between Banteer and Newmarket will be terminated and that road services will be substituted for the railway."
On 25 January 1963 services was cancelled, and a replacement service provided from Abbeyfeale. The Newmarket Branch, after a long history of faithful service, closed at 4pm on Saturday, 2 February 1963 .
Source: IRRS (Irish Railway Record Society) Journal number 157, published June 2005