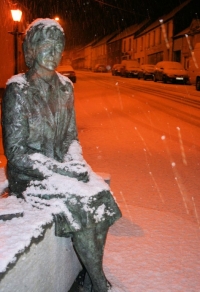 Christmas is less than a week away and before we know it we'll be into a new year, 2013.  It's been a busy year for the development association – our AGM was held in early Spring.  Our first job of the year was to organise the St. Patrick's day parade – which went off really well.  After that we were mainly working on the Tidy Towns competition.  The new path in the town park and the upgrade to the playground were completed by the end of  the Summer and both look great.  Unfortunately due to the terrible weather the mural wasn't completed but I'm sure you'll agree it looks like it will be a great piece of art.  This will be finished once the weather improves next year and we'll also be installing lights in the park too.  We had a great team of people out on the weekly clean-up nights and we went up a few points from 2011 and came second in the County Council Litter challenge.  Next year we hope to do even better and get more of the community involved.
The lead up to Christmas has been really busy with the first year of the Christmas Ball, the carol singing evening and of course the guess the santa quiz. The newly formed Trader's Association brought Santa to town and it was great to see such a great display of gifts ideas on offer locally on Raymond's window.
We have had a lot of set backs in the town this year – the announcement that our bank is scheduled to close in 2013 (the trader's association are working hard to do what they can to stop this), the very sad closure of our much loved Centra – a landmark in the community for 65 years.  The recession has certainly hit us but there is some light at the end of the tunnel.  The proposed primary healthcare centre would be a huge boost to the town and we would urge all members of the community to get behind this initiative.  This could provide new jobs and a big footfall in the town.   Doctor Daly presented the project to a packed room in the James O'Keefe Institute only a few weeks ago and all agreed that it was extremely impressive.  The McAuliffe Clan purchased the Old Protestant Church during the year, now called McAuliffe Place.  It is great to see this historic building being put to use and especially by such a great organisation who have such deep roots in our community.  We are getting closer to getting our library back and there are very exciting plans for the building on Church Street.  Hopefully an interim library will be up and running early 2013.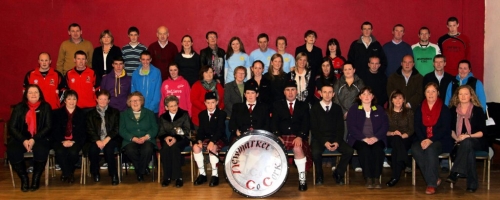 Representatives of  some of Newmarket's Voluntary Groups and Organisations
As the President said in his Christmas message this year it is the diverse and hardworking communities striving to help themselves that really made Ireland: "As our economy has contracted in recent times, many people are feeling the consequences, in terms of employment or income. However, our economic condition does not, on its own, define who we are."  We have a huge range of voluntary clubs and organisations in this town and it shows how strong a community we are.   This year in Newmarket we have a new Trader's Association who have worked hard to create a great atmosphere in the town over the Christmas period.  Our Traders have put their hands in their pockets, as they do every year to pay for the erection of the Christmas Lights.  The town looks amazing – with Christmas Music playing and every business decorated beautifully it is hard not to feel festive.  We urge people to shop local – support your local business.  Come in to their premises, look around, see what's on offer.  Check out the business directory on this site to see the wide range of industry in Newmarket.  Support local jobs, local produce, keep our town alive.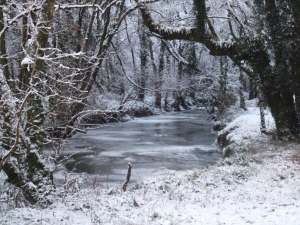 We have two new clubs/groups – the Walking Club and Oíche Ghaeilge Áth Trasna.  The walking club meets Tuesday, Wednesday and Friday outside the CYMS.  The Oíche Ghaeilge starts on the 27th of January in Scully's at 8PM.  Just offering a chance for people to speak a bit of Irish.  All levels are welcome.  Both of these activities are Free!  Maybe we'll see more new organisations next year?
Next year is going to be even busier than 2012 – there are a lot of milestones, the secondary school is closed 50 years next year, the pipe band have their Golden Jubilee next year too and will be holding a a Social at the Charleville Park Hotel on the 9th March 2013.  We'll also have the Summer Festival to look forward to – well done to the festival committee for all their hard work.  Watch newmarketfestival.com for updates.  And we also have plenty of Newmarket Teams to follow between GAA and Soccer.
We have added a lot of new content to the website this year – thanks to all who donated photos and articles.  We would really welcome new content from people next year.  We'd like to pack the site with information about Newmarket past and present so if you have anything you'd like to contribute send it via email to contact@athtrasna.com or talk to any of our committee members.  You can drop into Sraid Nua Technologies (Éilis and Tim Hourigan) on the New Street and any photo, clipping could be scanned while you wait.  No doubt there are some treasures out there it would be great to be able to share them with all Newmarket people both at home and abroad.
Thank you to all who have supported our events this year.  If you have suggestions for any events or projects you'd like to see happening send us an email at contact@athtrasna.com or chat to one of our committee members.  Wishing you all a very happy Christmas and great 2013!
Nollaig Shona Agus Ath Bhlian Faoi Mhaise Dhaoibh Go Léir