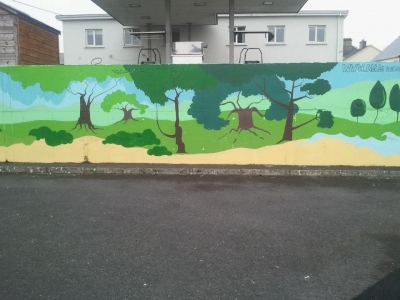 The  tidy towns season is on us again and we'd like to make a big appeal to the community to do what they can to have the town looking neat and tidy.  We enter two competitions every year, the tidy towns competition and the cork county council litter challenge.  Our points have been increasing yearly in the Tidy Towns competition and we hope to continue to do so this year.  We placed 2nd in the litter challenge and won a cheque for 1,200 euro last year.  This money was much needed for all the work that has been undertaken in the town park last year and this year.  We have added a new path which has been well used by walkers, lights for the park, new fencing, new playground equipment and surfacing, and the beautiful mural by local artist Siobhain Burke.  This year we will be adding in a wildlife board and some picnic benches made by the Newmarket branch of Mens Sheds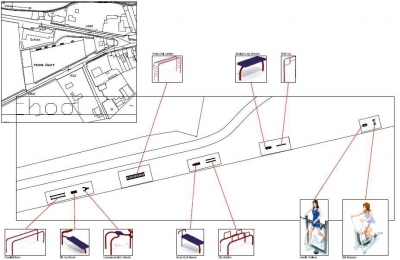 Our biggest undertaking in the park will be the outdoor gym which will be installed over the coming weeks.  We did a great deal of research before ordering equipment and spoke to a number of communities and gyms around the country. The equipment we ordered may look quite simple but it is multi-functional and usable for all levels of fitness.  The main issue we discovered with much of the outdoor gym equipment on offer is that they look like indoor equipment but are not effective as there is no resistance in the machinery therefore it offers little in the line of real exercise.  Once the gym is installed we will organise a number of demonstrations of the equipment for those interested.  We would like to remind parents that this is not playground equipment and is therefore not suitable for children.  The link below shows some of the equipment in use:
We will also be doing our usual planting around town, including further development of the biodiversity garden outside the protestant graveyard.  This garden is 100% organic and chemical free, we have planted bee and butterfly friendly plants here.  We have also done a bit of research in the graveyard and have discovered a number of species of bat.  We commissioned Men's sheds to make a number of bat and bird boxes for this area and some have already been installed.  It is such a lovely peaceful haven in the town and well worth a visit on a sunny evening.
All this work has been part funded by the IRD LEADER grant and we have also received donations from the County Council.  That said we do need to raise a lot of money to pay for all the improvements so please look out for fundraising events and give us your support.  We have an AIB account which you could donate to also: Sort Code 93-61-70 a/c no. 25218024 (Newmarket Community Development Association)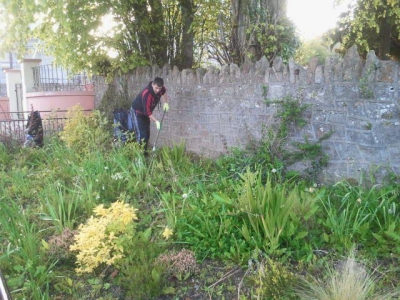 We have already started up the weekly clean-up evenings.  We meet every Tuesday evening from 7-8pm at the town park.  We have pickers, bags and high viz jackets for volunteers.  During the month of May we will have planting and weeding to do as well as litter pick up and any other odd jobs that come up.  We really need a lot of volunteers for this – the more people out helping the more we can achieve.
We'd like to make a special appeal to all people who own properties in the town to maybe give their buildings or walls a real clean and maybe a lick of paint.  Especially those buildings which are unoccupied -  fresh curtains and a power hose would make a real difference.  We realise times are tough at the moment but having the town well presented is important for the local community.  If you need a hand with any work give us a shout and we'll pull some volunteers together.  Flower boxes and baskets would be a great addition too – I know many people do this every year and it really makes the town look lovely.
If you have any suggestions or areas you feel could do with sprucing up please chat to any committee member or email us at contact@athtrasna.com.