Newmarket in The 50s
A poem by the late Jerry Clifford
I returned to Newmarket, and looked 'round in dismay,
things were not at all the same, I'd been so long away.
Shops and houses and the streets were very, very changed,
the smaller shops were all closed down, the big one's re-arranged.
And then I started thinking, and if you'll come with me,
we'll do a tour of that fair town, and the way it used to be.
Miss Gillman's is the first of course, for a glass of ciderene,
and Mrs D.P Shine is next, she was first to have ice-cream.
Then we go to Scully's, for the best cakes in the town,
and further down the street, we find the famous 'Eckie Brown'.
To call to Mrs Eddie's, for the paper was quite handy.
t'was here we bought 'The Hotspur', 'The Beano', and 'the Dandy'.
And here too was 'Lizzie Danihy' with her 'famous eating house'
and next door we had Mag Bunworth for silk stockings or a blouse.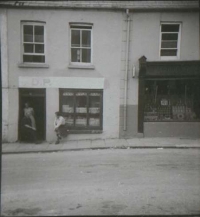 And now we've Quinlan's Hardware shop for a hay knife or a raker,
and back the street Nick Barry, clothes shops and undertaker.
And right here too is Sheehan's shop, a fine chemist that's for sure,
for colds or influenza, you bet Michael had the cure.
Jack Angland's is the next shop now, furniture old and new,
and by a strange coincidence as undertaker too.
And now we walk across the street and to our right and then,
we gaze into that draper's shop, and we chat with 'Denny Ben'.
He had a lot of fabric there, with silk and satin fine,
then two doors further up the street, that grocery man Tim Ryan,
And next we have Tim Barry, baking white flour by the ton,
a big and decent man he was, just like his penny bun.
And now we meet with 'Lizzie May', there's Julia and brother Joe,
it is a corner on it's own, three Cronins in a row.
They spent long hours inside those shops, their efforts were quite tireless,
and Tommy Cronin was next door, you'd get bacon or a wireless.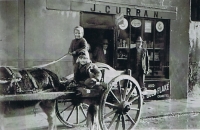 A few doors further up the street, you remember just like me,
we meet that famous draper, the man called 'Jack D.D'
He had a lovely draper's shop, t'was fit for any swank,
but he could cut a caper or on you play a prank.
Paddy Murray is the next, for a suit or shoe or sock,
he was preceded here by Dan Greaney from the Rock.
And now comes Humphrey Murphy with his taxis and strong brew
Dick Scanlan worked here all his life, and Mary Cahill too.
Next the Old Post Office, you had May and Nell and Joan.
and of course their brother Andy, his job was on the phone.
And in my mind I see Con Flynn, he was always called 'The Boss',
I raise my hand as I pass by, a salute to Jimmy Cross.
And now we take a right, we're passing Reardon's pub,
and we meet up with 'Decie' that's McCarthy's for the grub.
We look across the street once more, sure Dan Riordans is a chipper,
and right next door is Daly's shop for pig's head or a kipper.
And Mary Horgan's for the fags, we smoked with all our might,
and right across the road was 'Jinks' he'd install 'electric light'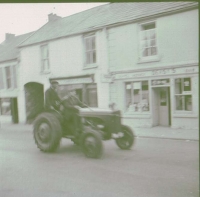 And now we have Flynn's High Street store with timber and such like,
and across the road, Mc Auliffe's, we had Lil and brother Mike.
A few steps further on from this you can bet your bottom dollar
Jerry Walsh with awl and thread, would fix your horse's collar.
We climb on further up the street, and Roy Campbell, I recall,
you might wonder why I mention them, sure we're passing 'O Brien's Hall'.
And now we're at the Chapel Cross, where all blessings are bestowed,
the Island Road joins with the town, as does the Kerry Road.
On mentioning this highway, you should remember well,
The house that kept the down and outs, t'was called 'Mag Gould's Hotel'.
And Minnie and Jack Murphy and their son Danny too,
he'd sing a song or play a tune, an entertainer true.
They were all fine people, they've all gone Heaven's Way,
likewise the man across the road, sure you remember Autie Shea.
I'm standing at Ford's Corner, I'm looking down the street,
We've Ciss and Hannah Deedy for parafin, oil or sweets.
I hear an anvil sounding, its ringing in the air,
I know it's Paddy Connors, he's shoeing Curran's mare.
And then we have Bill Collins he thought he was 'Oisín'.
And do you remember 'Statia', and the art of 'The Tosheen'
She'd fill it up with sweets you see, t'was as sound as a tin can,
she said The Irish Press was best likewise The Kerryman.
The 'Tosheen' was made of paper rolled in a special way,
but the plastic bag put paid to it, the 'Tosheen' has had its day.
I'm walking down the hill again, to the bottom of Main Street,
and there I see the Convent Gates where we held 'The Garden Fete'.
The Church of Ireland, and The Bank, Mike Quane with cow and churn,
and back the street another shop, do you remember Mrs Curran?
And Pat Mulcahy, flour and meal, Ciss Linehan, hats and dresses,
and Vincie of 'The Medical Hall' with pills for all your stresses.
I'm standing here at Peggy Quinn's and I'm thinking of Joe Lane,
his shop is ten times bigger now, t'will never be the same.
And then comes John Joe Murphy, with shoes of every style,
He was followed by Matt Jones who ran it for a while.
Now all these names run through my head, my mind is really swirling,
ah yes! Next door to Dan Joe Brien's was Kate and Arthur Verling.
And right next door were 'Larkin' and his brother Sonny too,
you could hire a car, or buy a bike or radios, old and new.
And now I'm thinking very hard as o'er the bridge I trip
but t'was here 'round' 59, I think we had Kelly's fish and chips.
And now I'm at the Sick House Cross, it's the quietest part of town,
but two more names had disappeared, Maggie Sullivan and Dan Browne.
I'm walking past Verling Place, Guiney's Terrace towers above,
the 'Casino' then comes into sight, it's the one place that I love,
T'was there we say 'Roy Rodgers' and 'Singing in the Rain',
and cowboy pictures of the kind, we'll never see again.
And if you had a few more pence, of course that would be a dream,
at the interval you'd dash across to Careys for ice-cream.
And if perchance when you read this, I've forgotten one or two,
just call around to see me, and I'll tell you what we'll do.
We'll put our heads together and we'll add a little more,
and we'll reconstruct that little town we knew in days of yore