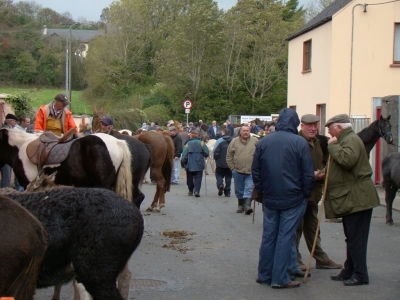 Spring has arrived in Newmarket, Snow drops and Daffodils are starting to peak out of the ground, there's a bit of a stretch in the evenings and today the center of town is packed full of stalls, horses and many other animals for the February Horse Fair.  There is something timeless about the biannual Newmarket horse fairs, similar fairs have been run here for hundreds of years.
Spring also brings the AGM for the Newmarket Community Development Association.  This was held in the meeting room in Scanlon's bar on Tuesday night (17th of February) and saw the election of this years committee:
Chairman: Ollie Dugdale, Secretary: Linda Walker, Treasurer: Lisa O'Donoghue, PRO: Mary O'Sullivan.
The first big job of the year for the committee is the coordination of the St. Patrick's day parade.  The Newmarket Parade has grown year on year and is always a great day in town.  Plenty of traditional music, dancing and craic.  Followed by the Coffee Morning in Hourigan's High Street lounge which has run for many years now and is part and parcel of the Newmarket Paddy's day experience.  Other events on in town over the few days will be viewable on the events section of this site.  If you'd like to get involved in the parade this year all are welcome.
This years Tidy Towns competition was also a topic for discussion at the AGM and the committee are determined to make a really big effort this year.  Some really great ideas suggested at the meeting.  There will be a kick off meeting for Tidy Towns 2015 in April.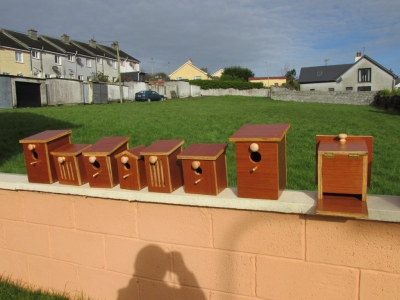 A collection of handmade bird and butterfly boxes will be distributed around town over the coming days and weeks.  According to Joan Ann Brosnan, who is the wildlife officer in the Development Association "after valentine's weekend is the correct time to put up bird boxes – love is in the air – at this time bids look for territories, mates and homes – they will not make the nest for another few months and lay eggs but will be in pairing mode and need to stake out territory and find the best nesting places. "
The boxes will last for a number of years and will need to be cleared out each year of nest material to prevent bacteria spreading in September. Bluetits, great tits, coaltits, robins or sparrows could use them.  Also wrens would use them in winter to roost.
We're hoping to add a lot of content to the site this year and are really interested in any photos new or old that people may have that they would like to share.  We'd also love to get some articles from people, anything that relates to Newmarket: maybe your own childhood memories, a bit of history or an anecdote, a song or a poem.  We're hoping to do a few interviews also so if you'd be interested in taking part get in touch: contact@athtrasna.com