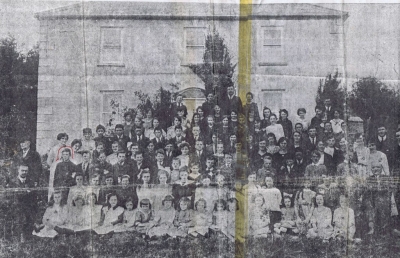 According to Brother Allen's book, "A History of Newmarket", the Newmarket Gaelic League (or Conradh na Gaeilge) was founded in February 1904. The purpose of the organisation was to promote the Irish Language and Irish Gaelic culture.
It was the Gaelic League which brought Countess Markievicz to Newmarket for a Feis Mór. Brother Allen tells the story in his book as Gaeilge:
"Sa bhliain sin (1919) bheartaigh  an chraobh in Áth Trasna go mbeidh Feis mhór acu, agus tugadh cuireadh don Countess Markievicz teacht mar aoi-chainteoir. Chuir sí fúithí san Railway Hotel. Bhailigh na póiliní ó gach áit sa Bharúntacht. Go déanach um thráthnóna an lae sin sciurd an Countess amach as an óstlann; chuaigh sí isteach i gcárr is síos léi go dtí an Stáisiún mar ar chuaigh sí ar bórd na traenach. Nach ar na póiliní a bhi an gliondar is an t-áthas. Bhí 'Sí Féin' imithe; bhí an gcuid gnó déanta acú; scaip siad soir is siar. Ach ní raibh 'fhios acu nárbh í an Countess féin a bhí ann ar chor ar bith ach Madge McCarthy – cailín cróga, galánta nár theip ar an misneach riamh uirthí – is í gléasta in éadaí an Countess.
D'éalaigh an Countess cheart as an óstlann is d'imigh sí léi go teach Corney Lenihan i nDrom an Airgil, mar ar chaith sí an oíche. Lá ar na mhárach bhí sí are árdán na Feise. Bhí breall ar an roinnt bheag póilín a bhí sa pháirc – bhí an lá ag Gaeil"
The league was very strong in Duhallow in 1920, when the photo above was taken, eventhough the war of independence was under full sail at the time in the barony. That summer an Irish College was set up in Newmarket and students from all through Duhallow attended. The civil war put an end to the activities in Duhallow except in Cullen. There were Irish Classes in Newmarket again from the summer of 1936 but it is not felt that these were run by the league. In the 50′s a new branch was set up in Newmarket" and this branch was particularly active in the early 1960s.