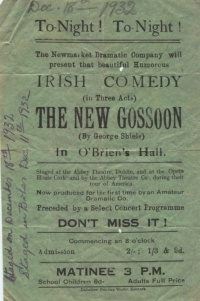 Newmarket Drama group have launched a fantastic new website, created for them by new local web design company
Tosnú
.
The site contains a vast array of photographs, posters and information about past productions.  The aim of the site is to provide an archive and history of the Newmarket Drama  Group.  We have a rich history of drama in our community, dating back to the early part of the last century.  If you want to send in an article or any photos for the site their email address is newmarketdramagroup@gmail.com.
You can find the Drama Group website at the following link:
http://newmarketdramagroup.com
The drama group are also on Facebook, if you want to follow them there also.